One day, Coyle with long hair was possessed by a supernatural being called "Treat".
Thanks to that,She can move her hair freely, but in consideration she can't help but be hungry.
On the other hand, the monsters that come out of the Dimensional Bucket steal the bread and go all over town.
So, Coyle is forced to go around destroying them at Treat's request.
She'll have some bread too!
You control Coyle that drags the long hair,
Let's defeat all the monsters on the stage, the dimensional bucket as well.
As a weapon, you can use a hair attack like a whip.
It also clears enemy bullets.
If you press the attack and up button, the hair will move, so please hook the tip to the gear.
This allows you to reach floors that you can't reach by jumping. (no contact judgment during this time)
⬅️➡️⬆️⬇️...up,down,left and right
❎...blow a long hair(+⬅️➡️ long range attack , +⬆️ search hoot)
🅾️...jump
...thank you for playing!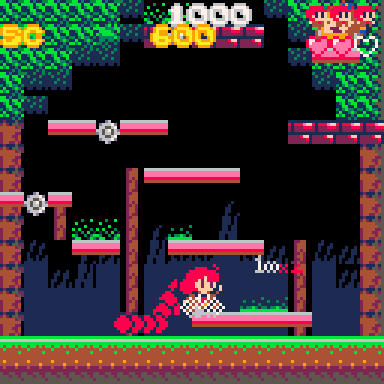 1.1 ... The title screen has two patterns.